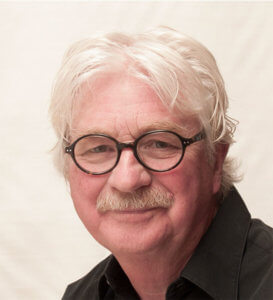 Platinum and Palladium printing master printer Martin Axon is born in England. He made his first platinum print in 1978 at St Martins Art School in London, England.
Trained in photography (Photography education Gloucester College of Art and Derby College of Art) and photographic printing from age 16 gave him plenty of experience printing many different images.
His first professional platinum printmaking studio was in London in 1980. He printed his own images in platinum which were shown at galleries in England. He was also asked to print in platinum for several London photographers. He moved to NYC USA in 1981 and started making platinum prints for many remarkable photographers including Robert Mapplethorpe. His own work was also included in group museum shows. The major contribution he has made to the world of platinum printing was working as a consultant for the Arches Paper Mill, to help create the ARCHES® Platine paper in 1992.
See the work of these photographers printed by Martin Axon:
Michael O'Neil, Denis Piel-George Holz, Greg Gorman, David Shedlarz