Why number 88?
88, which we find in the watermark of this ARCHES® art publishing paper, is the code number of the Department of the Vosges in France.
The town of Arches is situated in the Vosges, in the heart of a papermaking region. ARCHES® therefore benefits from a regional body of expertise that has been passed down the generations and persists today thanks to the existence of a school providing training in papermaking skills. Skills are also learned through experience and passed on in the workshops at the Arches Paper mill.
The Vosges Department has always made the most of its natural assets and for more than twenty years now has made sustainable development its main focus. Water is omnipresent here and of excellent quality.
The Arches Paper mill uses pure mineral water – an essential requirement for quality paper – which it draws from the groundwater under the site. It is simply filtered to remove any impurities. Our papermakers call it the "beautiful water".

The ideal medium for screen-printing!
Like all the papers in the ARCHES® art publishing range, ARCHES® 88 is made on a cylinder mould, the only process that can produce paper with deckle edges. Made of 100% cotton, it absorbs ink perfectly, and is homogeneous with good dimensional stability, an essential quality for the screen-printing process, which sometimes requires the application of many colours in succession. Unsized, it is highly absorbent, which avoids setting-off.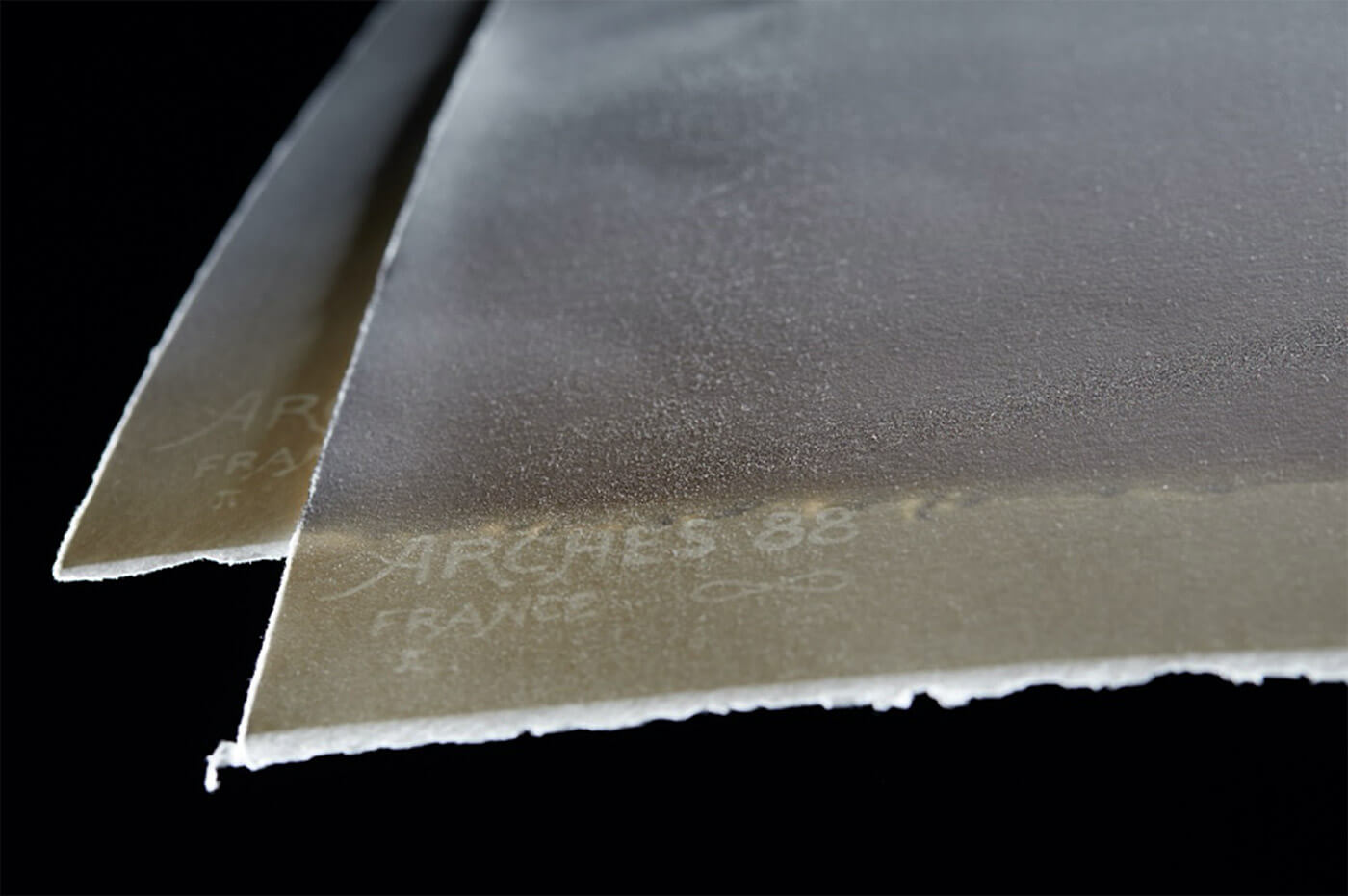 Sold in sheets, this is a paper with excellent bulk (300 g/m² or 350 g/m²), extremely white, with a satin surface that is particularly smooth to the touch. The ideal medium for screen-printing. It can also be used for intaglio printmaking and lithographs, as long as it is not soaked.
ARCHES® 88 is perfectly suited to finishing processes such as blind embossing and gold foil stamping.
With an alkaline reserve, acid-free and containing no optical brighteners, this is a permanent paper that meets the requirements of standard ISO 9706 for archival paper.