12th Biennale internationale d'estampe contemporaine at Trois-Rivières
The 12th Biennale internationale d'estampe contemporaine opened on Sunday 12 June at Trois-Rivières in Québec. It continues until 12 September.
Entry to each of the five exhibition sites is free for visitors. 250 works of art by 52 artists from 19 countries and all five continents are being exhibited. Visitors are invited to vote for their preferred work of art in order to award the traditional Prix du Public at the end of the Biennale in September.
The Biennale is being held under the honorary presidency of the poet Jean-Paul Daoust, who has participated by composing some original poetry inspired by the works on view.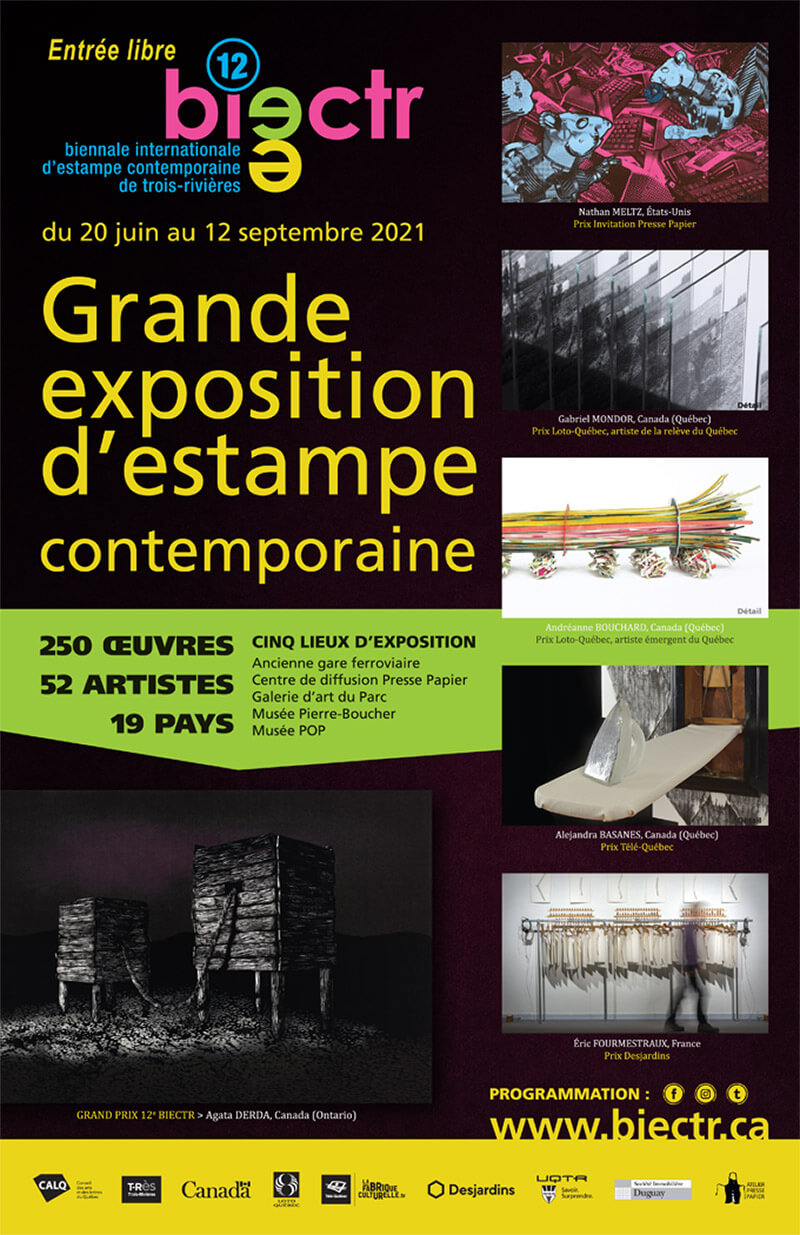 Éric Fourmestraux, the French engraver, has been awarded the Desjardins prize for his installation "In Memoriam" [to the 48 Jewish children deported from the Vicq d'Azir school in the 10th arrondissement of Paris].
International Holocaust Remembrance Day is held every year on 27 January, the anniversary of the liberation of the Auschwitz-Birkenau camp. On this occasion, during a commemoration at the Vicq d'Azir school in the 10th arrondissement of Paris, where he had worked as an art teacher for nine years, Éric Fourmestraux was profoundly affected by the names and ages of the 48 Jewish children who had been deported from this school, which were read by one of their former schoolmates from the area, Pierre Degenzajn, who was born on 11 January 1931.
Since that day, Éric Fourmestraux has constantly thought that he would pay homage to them one day, outside the school context, through this medium of engraving, in the form of an installation. A plan for an exhibition at La Celle-Saint-Cloud by the Graver Maintenant association, of which he is a Board member, was the trigger.
The order "Ne les oublions jamais" [may we never forget them] at the bottom of the commemorative plaque has been followed precisely.
The installation is composed of 48 wooden coat hangers from which sheets of Velin BFK Rives® paper are suspended, printed in relief with the full name of each child from the school who was deported from 1941 to 1944.