Jean-Paul Marchal, wood engraver and picture maker in Épinal
Born in 1928, Jean-Paul Marchal grew up among the wood shavings of his grandfather's joinery workshop. First, he was a primary school teacher and it was only when he retired that he returned to his original passion, drawing. At the age of 55, he took classes at the Image d'Épinal school to learn typography. Very quickly, he honed his techniques and perfected his know-how until his talent was revealed by an art critic who immediately dubbed him the "Imagier d'Épinal", the picture maker of Épinal.
A worthy heir to the engravers and illustrators who made the name of the Imagerie d'Épinal from its origins, Jean-Paul Marchal was one of its master picture makers for over thirty years. It is his modern approach to illustration and his innate talent for telling a tale in pictures that have made his reputation. Commissions for pictures, lithograph and typography prints flooded in from all over the world, even from the Dalai Lama!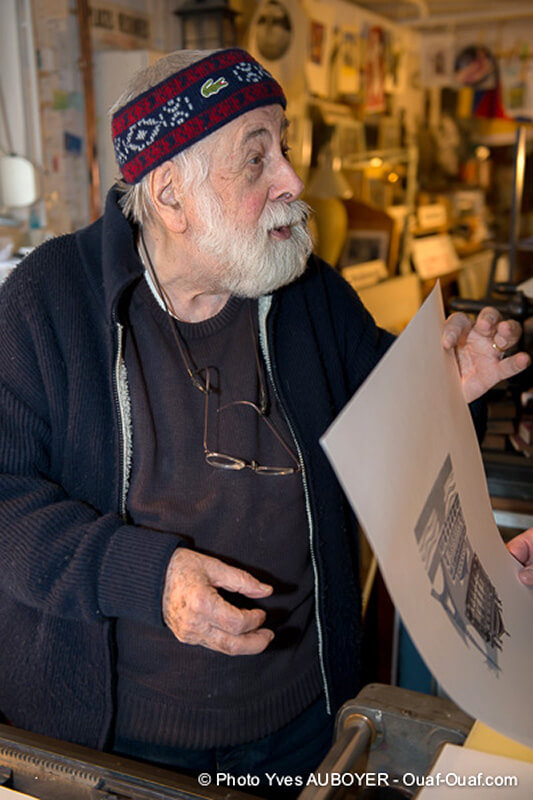 He acquired his equipment gradually, often buying it from printing works that were closing down, and so conserving the heritage of traditional printing at the same time. In the old days, delicately inked and pressed onto Vélin d'ARCHES® paper, these drawings told stories that many children learned from their reading books, which are now collectors' pieces.
Jean-Paul Marchal died in 2016 and left his workshop and all his type cases to the town of Épinal, which has brought them back to life in the Musée de l'Imagerie, where they form the closing feature in the permanent exhibition. It is a living space that hosts different artists, residencies, etc.
Musée de l'Image d'Épinal : https://museedelimage.fr