Ayda-Su Nuroğlu exhibits her "Sortilèges"
You can still see the works of French-Turkish artist Ayda-Su Nuroğlu in the "Sortilèges" exhibition in Montpellier until 23 December 2021.
She plays around with different media and here she has mixed screen printing, drawing, sewing and cyanotype printing under the title "Sortilèges" (Spells). Her works reflect a combination of beliefs, aesthetics and anthropology. Inspired by the traditional symbols and rites that subsist in our societies, Ayda-Su Nuroğlu draws on the relations between men and women, nature and culture, as well humans' relations with animals.
Cyanotype
This is an old monochrome negative photographic process that produces a photographic print in Prussian blue or cyan. This technique was developed in 1842 by English scientist and astronomer John Frederick William Herschel. It is a method that is little known to the general public, which is why Ayda-Su Nuroğlu offers demonstrations to accompany her exhibition.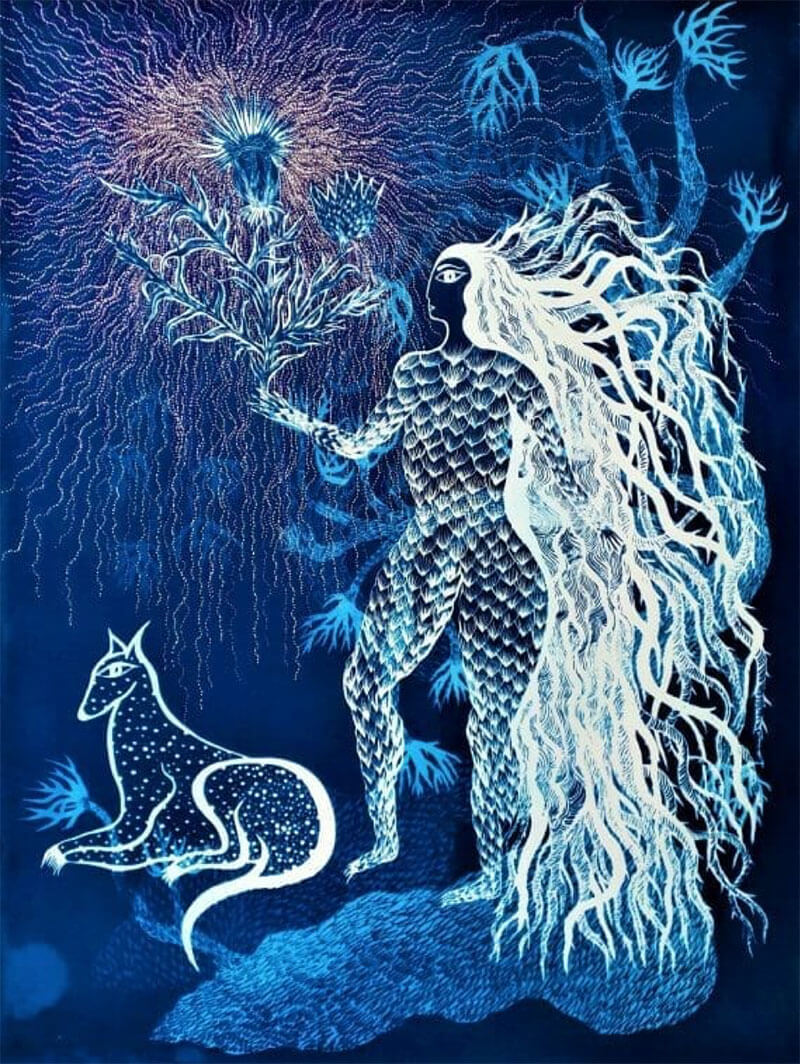 La Déesse aux Chardons Ardents, 2021 Cyanotype enhanced with gold and silver on ARCHES® Aquarelle 600 gsm paper, 56 x 76 cm – © Ayda-Su NUROĞLU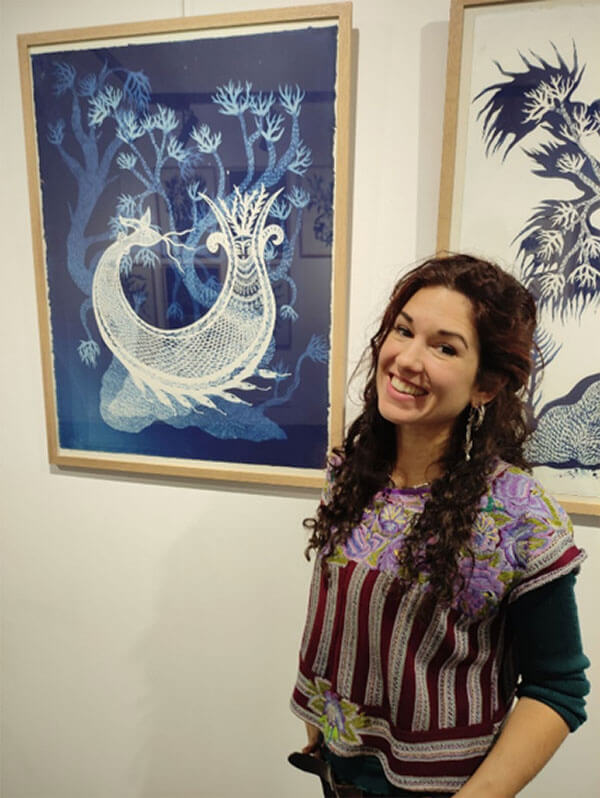 Ayda-Su Nuroğlu
Ayda-Su Nuroğlu was born 1982 in France where she spent all her childhood. She spent all her teenage years in Turkey, in Istanbul, returning to France to study in Bourges, where she gained her Higher National Diploma (DNS) in Fine Arts in 2003. She then spent ten years training in the techniques of printmaking at the City of Paris Ateliers des Beaux-Arts. She likes to dabble in many areas, but most of her work is centred on printmaking techniques, cyanotype, drawing and crafts in the widest sense.
On top of her artistic training and practice, she has also taken a master's in Art Therapy at the Faculty of Medicine in Tours. Since 2005 she has regularly led educational art workshops with participants of all ages and persons with mental disabilities and illness.
Ayda-Su Nuroğlu lives in Montpellier and Sète and divides her working life between France and Turkey. Her workshop is based in the Occitanie region, where she works as a plastic artist and community artist.