Romain Froquet and Christin Georgel, a successful collaboration!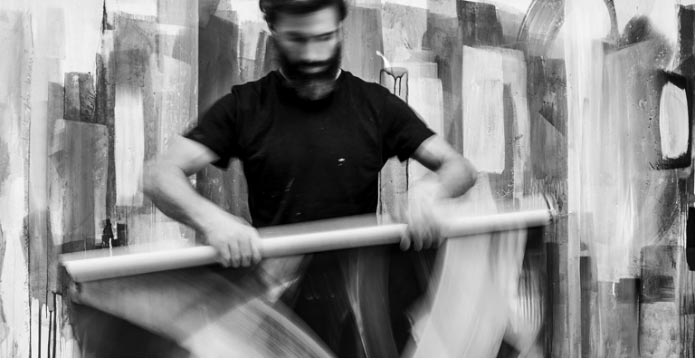 Romain Froquet
Self-taught French artist Romain Froquet was born in Villeurbanne in 1982. He took his first steps in the creative arena in the early 2000s. Romain now lives and works in Paris.
He has developed a very personal pictorial style which relies on repetition of lines and a quest for balance through gesture. He draws his inspiration from the urban world, materials in their raw form and ethnic art.
"I like the aesthetics of tribal art. When I started out, my paintings were stylised depictions of African masks. I find deep connections in this kind of art which exerts an influence on my work: the relationship to Mother Earth, a link to deities and beliefs."
In his art Romain experiments in different ways: Indian ink drawings on paper, working with materials and colours on canvas in the studio, exploring movement during in situ interventions, etc.
He alternates between personal and collective artistic projects in France and abroad and has collaborated with other artists at numerous urban art festivals, as well as within the 9e concept artist collective.
"I like the idea of art in the urban landscape. Not just for aesthetic reasons, but also because it creates social and community ties."
Loaded with references to contemporary artists who were precursors in abstract painting, such as Arshile Gorky, Jackson Pollock, Willem de Kooning, Romain Froquet's works have taken their leave of traditional codes and encourage the spectator to reflect on how we perceive the real and are transported beyond the tangible.
"My creations are essentially conceived around the idea of connection. In the world everything is connected: people with each other, the natural elements, humans and the earth – and of course the artist and their public."
"Working on colour is quite another field of artistic experimentation. I like combining and superposing different colours, but also playing around with shades and working on tone and consistency of the paint. Sometimes when I'm drawing a line I'll give it a graded effect, so that the density of the colours gradually fades away."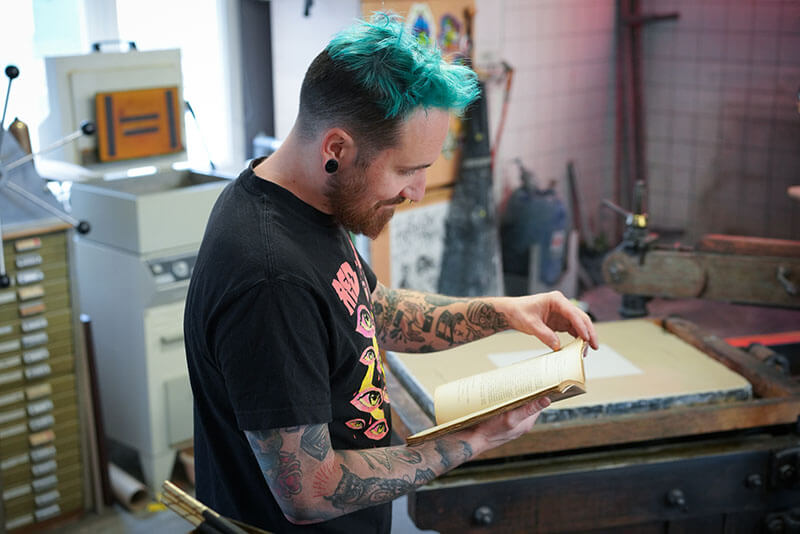 Christin Georgel
An artisan printer based in the Vosges specialising in printmaking techniques, Christin Georgel spent 5 years in the printing shop at the Imagerie d'Épinal before devoting all of his time to developing his own printing shop named En l'encre nous croyons (In ink we believe), which he founded in Gérardmer in 2008.
In addition, he has taught lithography, woodcut and screenprinting at the Haute école des arts du Rhin de Strasbourg art school since 2017.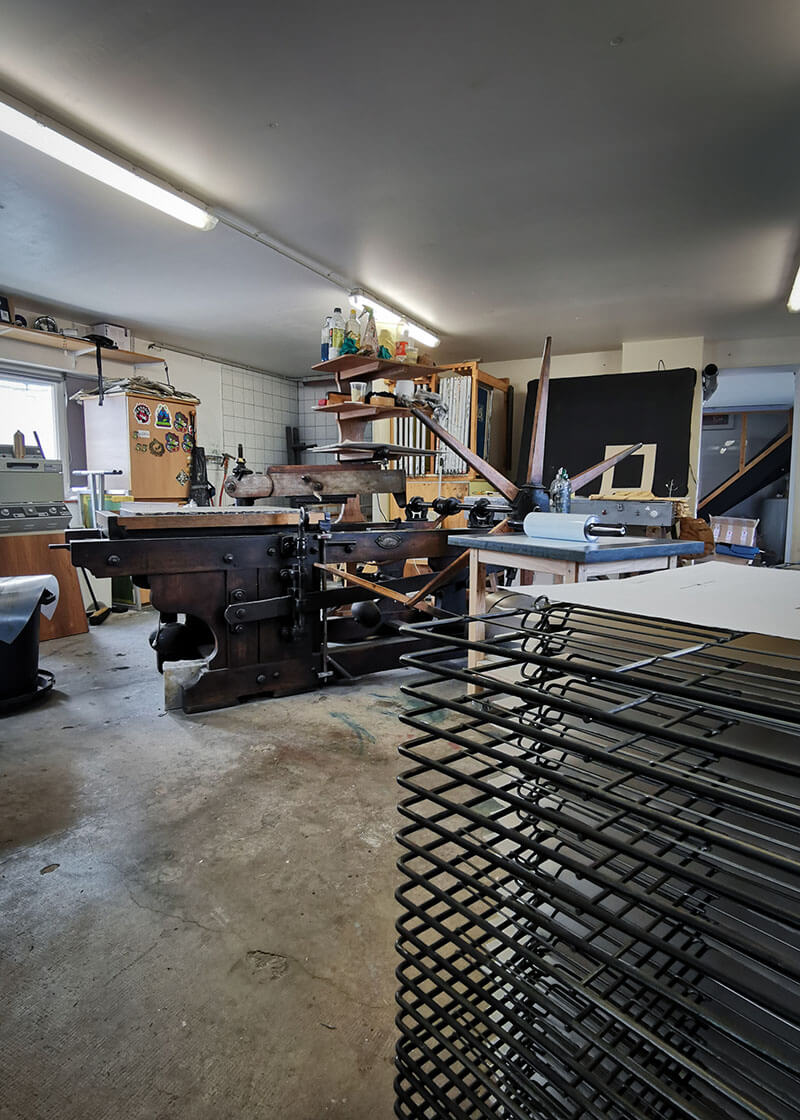 The collaboration
The coming together of the creative mind of one and the technical skills of the other has produced this splendid 5-colour lithograph – including 2 colours using the reduction method – a limited edition of 15 lithographs printed on ARCHES® 88 300 gsm paper.
Christin Georgel printed it at his printing shop En l'encre nous croyons in Gérardmer under the watchful eye of its creator.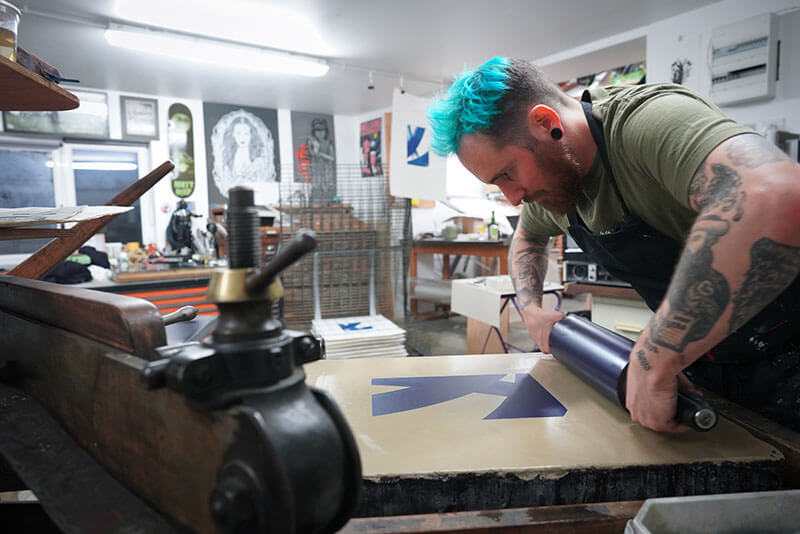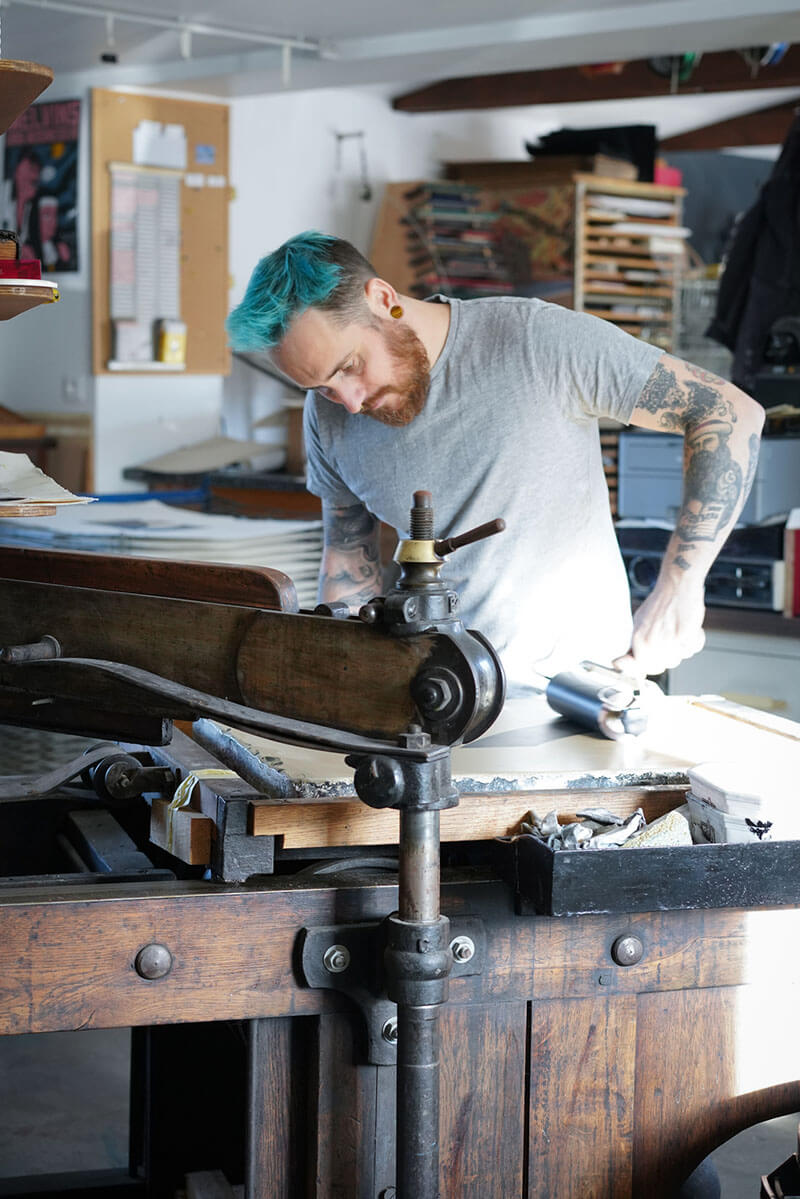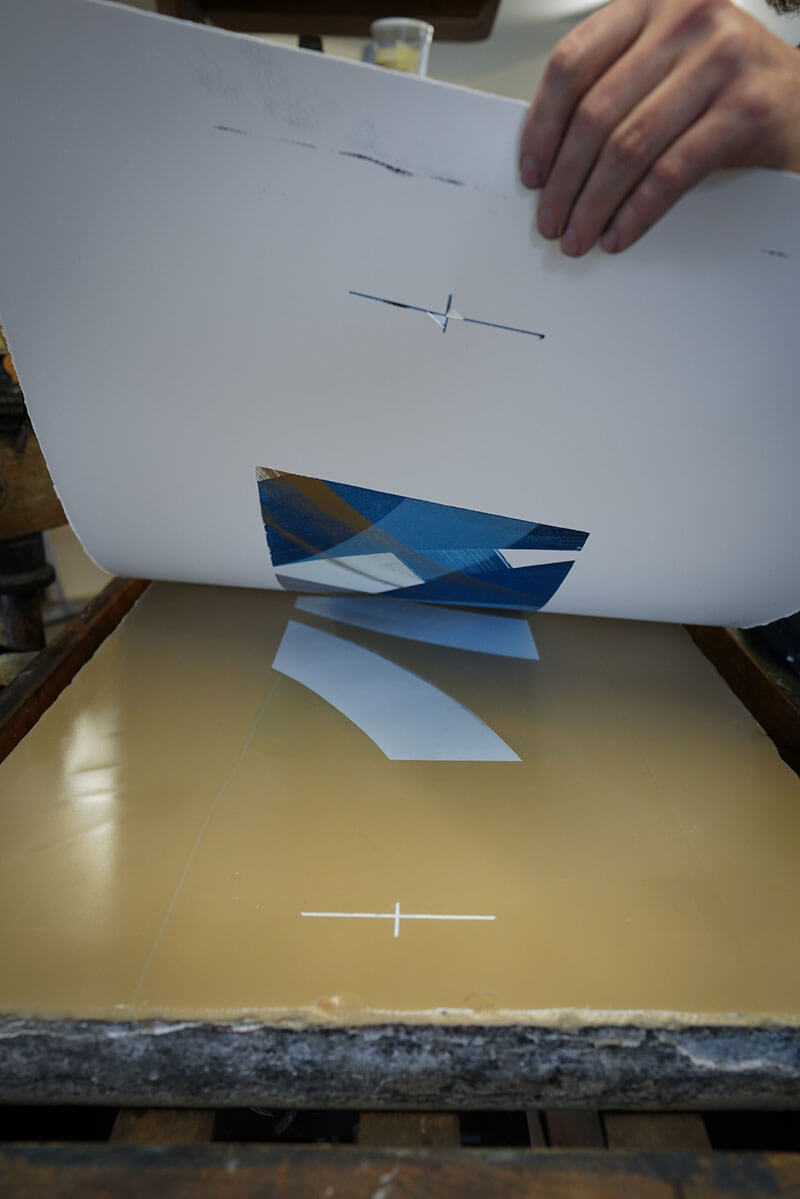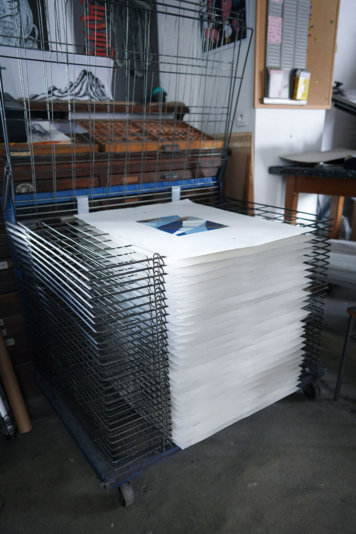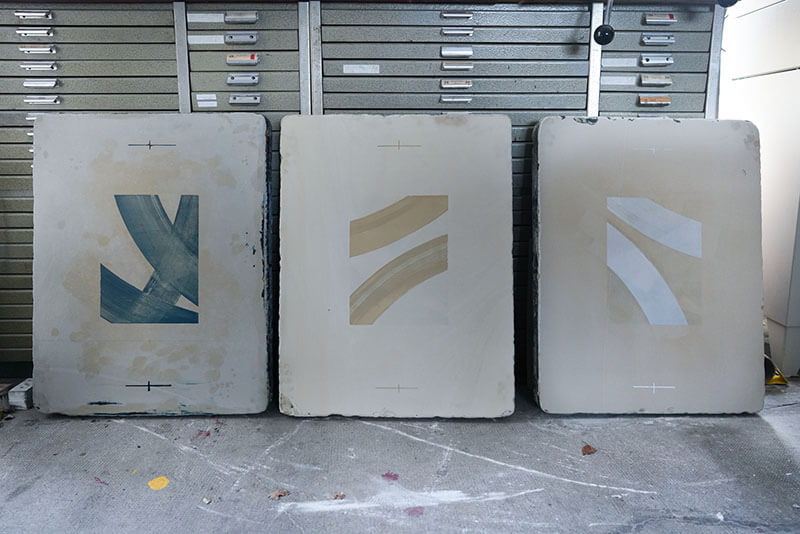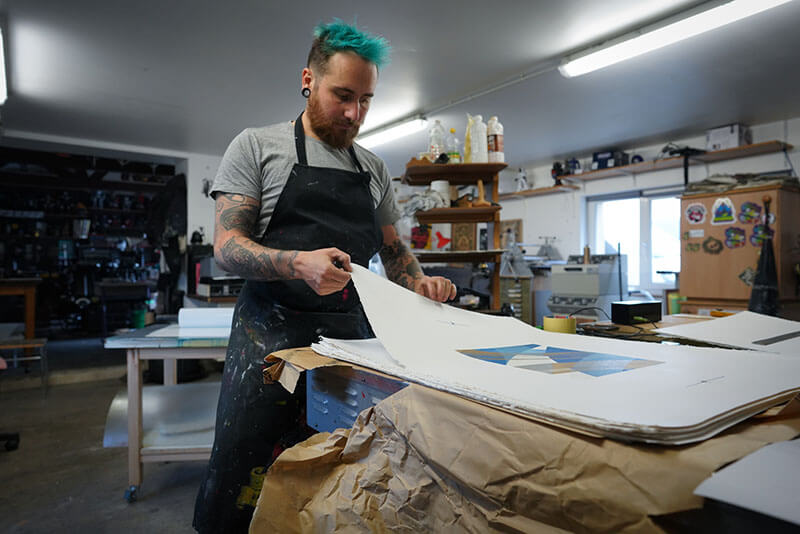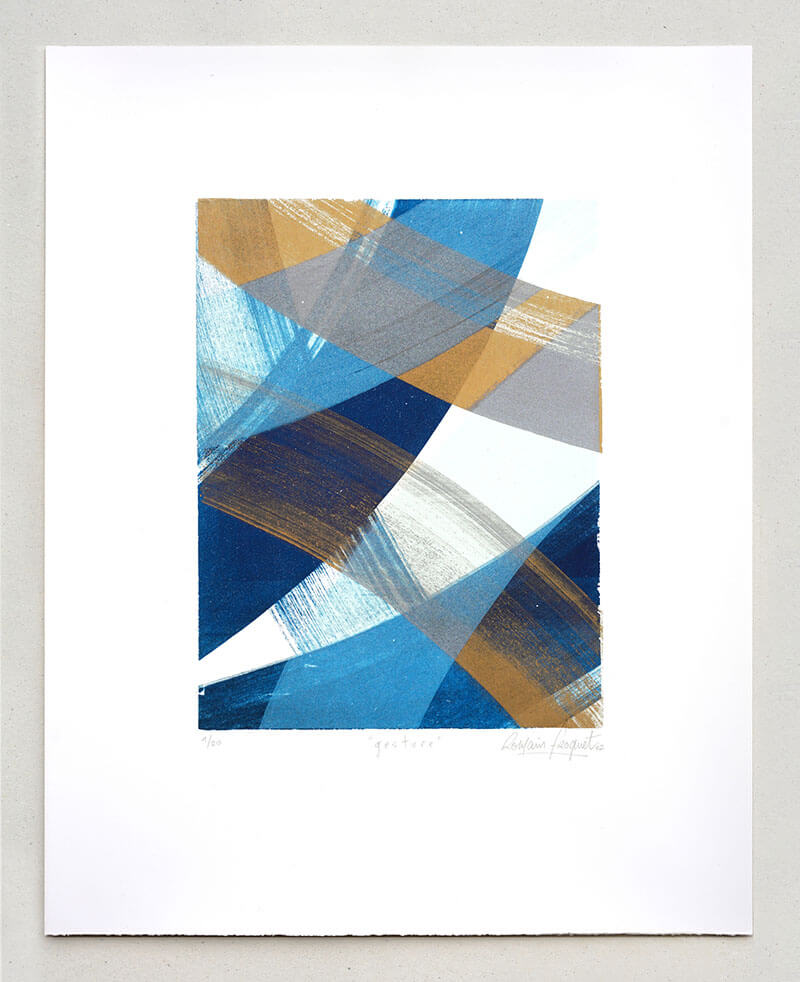 "Gesture" © Romain Froquet – Lithograph on ARCHES® 88 300 gsm paper, size 40 x 50 cm